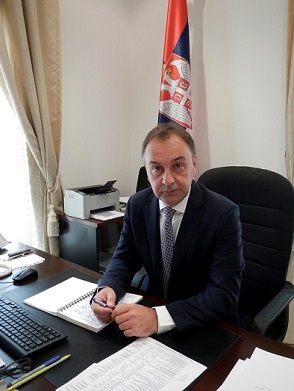 -Born on the 18th of July 1962 in Sarajevo. He graduated from the Faculty of Technology and Metallurgy at the University of Belgrade and completed a master's degree at John Nezbit University - education of human resources in the function of increasing intellectual capacity of modern organizations.
-In the period between 2004 and 2014 he worked in state administrations appointed by the Government of the Republic of Serbia. From December 2004 until December 2007 he worked as the assistant director of JKP Infostan Beograd, and from December 2007 to June 2014 as director of the Institute for Sport and Sports Medicine. Before that, in the period 1990-2004, he was the director of the company "Magna casa" d.o.o. Belgrade, assistant director for development in the company "Termomont" d.o.o. and as a professor at the secondary school "Bora Markovic", Belgrade.
-During his term at the Institute for Sportts and Sports Medicine he signed an agreement of cooperation between Aspetar hospital, Qatar and the Institute for Sports and Sports Medicine and thus create opportunities for our experts in the field of sports, and our doctors, to improve in their fields by working at, considered by many, the best clinic for sports medicine in the world.
-Received the May award in 2012 from the Sports Union of Serbia
-Married, father of one. Speaks English and Italian.